MANAGED CLOUD SERVICES
E-COMMERCE COMPANIES
Scale Your Business, without worry.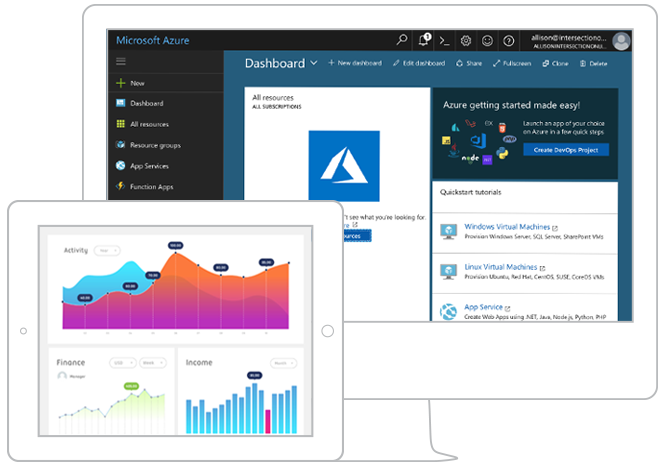 Cloud Solutions For E-Commerce
HELPING BUSINESSES MAKE THE MOST OF TECHNOLOGY SINCE 1999
Born in the cloud, Applied Innovations has helped businesses succeed in the cloud since our inception in 1999. Today Applied Innovations is one of Microsoft's closest partners and a recognized industry leader in delivering high performance, secure cloud solutions.
Our unique approach of Plan, Design, Implement, Operate and Optimize is a continuous process that starts with learning about your business, your customers and then understanding what success looks like for your business. Our team then crafts a strategy to leverage technology to help your business succeed. Popular services include E-Commerce Security & Compliance, Managed Azure for E-Commerce and Managed AWS for E-Commerce.
Why Partner with Applied Innovations for Your E-Commerce Cloud Needs
We'll take the time to understand what success looks like for your business and help craft technology solutions that drive that success for you and your employees.
Just because you can do IT, should you? Your company and customers are probably better served when you're focused on them and not your servers.
With AWS and Azure the cloud is evolving rapidly. Our team is involved in the cloud 24x7 and can help you leverage it and next generation technology more optimally.
By partnering with AppliedI, you'll gain personalized, first name service but still have the scale and innovation of Azure and Amazon AWS at your command.
E-Commerce Cloud
IT Consulting
Global Scale and Innovations, with Personalized Service, Since 1999.
As an e-commerce based company, keeping your catalog up to date and your customers happy is a full-time job. The last thing you need to be worried about is servers, updates, and security alerts. Let Applied Innovations drive your technology success.
> Streamline Security & Compliance Requirements.
> Deliver a Cloud Environment that's Secure, Fast and Reliably.
> Optimize IT Operations & Minimize Costs.
> Ensure Technology is Leveraged Successfully.
> Gain Our Expertise & Experience As Your Advantage.
It's like hiring a full-service,
highly-skilled IT team for
about the price of a
double-shot latte a day!
Custom Cloud
Server Solutions
Every Deployment Uniquely Optimized
To Your Unique Business Demands.
Every business is unique. While you may use the same tools and have similarities in your industry, your business is unique. The team at Applied Innovations will take time to understand your business, your needs, and goals. Then our team will work with you to help design a Managed Cloud Solution that helps you meet those needs.
EXAMPLE CONFIGURATION
As Low as


$249 95
4 CPU CORES
8 GB of Memory
100GB of SSD Enhanced RAID Storage
Daily Backups with 7 Day Retention
Full ServerConcierge Management
Recent Articles for E-Commerce Cloud IT
While the idea of building a website, snapping some photos of your products, uploading them to that site, and promoting your goods seems fairly easy and straightforward enough, anyone who runs an e-commerce business knows just how taxing and demanding this line of work can be. Although the work is difficult, it is far from impossible and…
Read More

→
There are a number of strong benefits you can get from using a Content Distribution Networks approach for your store. Plus, you're going to want to get in on this early, because according to MarketsandMarkets.com, the market share for the service is going to grow to over $15 billion by 2020. Here are some examples of some…
Read More

→
More than half of the pages viewed on the Web are now delivered by HTTPS and SSL. Your site should be among them. It improves not only your site's security but its search engine performance. There are two ways to access Web pages: By the HTTP and the HTTPS protocols. HTTP sends everything as unencrypted…
Read More

→