DIGITAL AGENCY
MANAGED CLOUD SOLUTIONS
Elevate Your Agency and Partner With The Cloud Innovators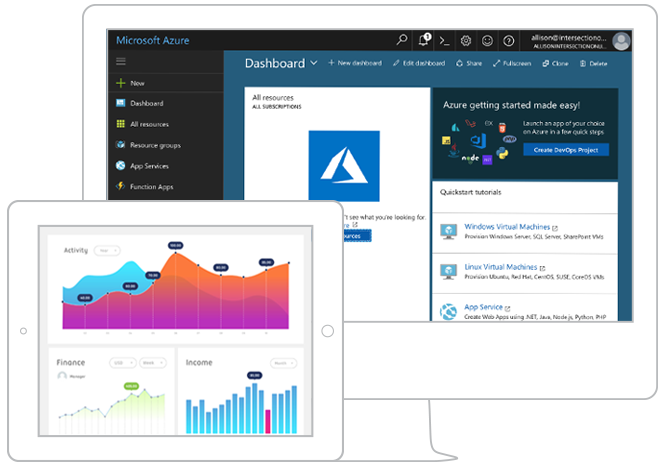 Cloud Solutions For Marketing Agencies
HELPING BUSINESSES MAKE THE MOST OF TECHNOLOGY SINCE 1999
Born in the cloud, Applied Innovations has helped businesses succeed in the cloud since our inception in 1999. Today Applied Innovations is one of Microsoft's closest partners and a recognized industry leader in delivering high performance, secure cloud solutions.
Our unique approach of Plan, Design, Implement, Operate and Optimize is a continuous process that starts with learning about your business, your customers and then understanding what success looks like for your business. Our team then crafts a strategy to leverage technology to help your business succeed. Popular services include DevOps for Agencies, Managed Azure for Agencies and Managed AWS for Agencies
Why Partner with Applied Innovations for Your Digital Agency
We'll take the time to understand what success looks like for your business and help craft technology solutions that drive that success for you and your employees.
Just because you can do IT, should you? Your company and customers are probably better served when you're focused on them and not your servers.
With AWS and Azure the cloud is evolving rapidly. Our team is involved in the cloud 24x7 and can help you leverage it and next generation technology more optimally.
By partnering with AppliedI, you'll gain personalized, first name service but still have the scale and innovation of Azure and Amazon AWS at your command.
Global Scale and Innovations, with Personalized Service, Since 1999.
As a digital agency you're focused on the branding, design, messaging and marketing of your customers. It's your responsibility to deliver successful campaigns for your customers and the last thing you need to be worried about is servers, updates and security alerts. Let Applied Innovations drive your technology success.
> Streamline Development Time with Cloud DevOps.
> Deliver Cloud Applications Secure, Fast and Reliably.
> Maintain Data Compliance and Increase Security.
> Streamline IT Operations & Management Costs.
> Leverage Our Expertise & Experience As Your Advantage.
It's like hiring a full-service,
highly-skilled IT team for
about the price of a
double-shot latte a day!
Custom Cloud
Server Solutions
Every Deployment Uniquely Optimized
To Your Unique Business Demands.
Every business is unique. While you may use the same tools and have similarities in your industry, your business is unique. The team at Applied Innovations will take time to understand your business, your needs, and goals. Then our team will work with you to help design a Managed Cloud Solution that helps you meet those needs.
EXAMPLE CONFIGURATION
As Low as


$249 95
4 CPU CORES
8 GB of Memory
100GB of SSD Enhanced RAID Storage
Daily Backups with 7 Day Retention
Full ServerConcierge Management
Recent Articles for Digital Agency Cloud IT
As more and more companies move to a posture that includes remote work, it's becoming more critical for managers to adapt their management style. Gone are the days when you could stick your head in your direct report's office to ask how they were doing. As the work landscape changes, so too does the most…
Read More

→
In the midst of the COVID-19 crisis, businesses, nonprofits, and government organizations are scrambling to find effective ways to manage their remote workforces on a scale never seen before. Unfortunately, there isn't much time to plan remote work strategies or acquire hardware and software solutions to ease the pain. The shift to telecommuting is bound…
Read More

→
With remote work moving from being simply a commonly accepted practice to the norm, it's also led to a rise in the number of video conferences remote teams are engaging in. Video conferencing is a great way for remote teams to communicate. It allows them to hear and see each other, capturing facial expressions and…
Read More

→