MANAGED CLOUD SOLUTIONS
NON-PROFITS & CHARITIES
Helping More of Each Dollar Go To Your Organization's Mission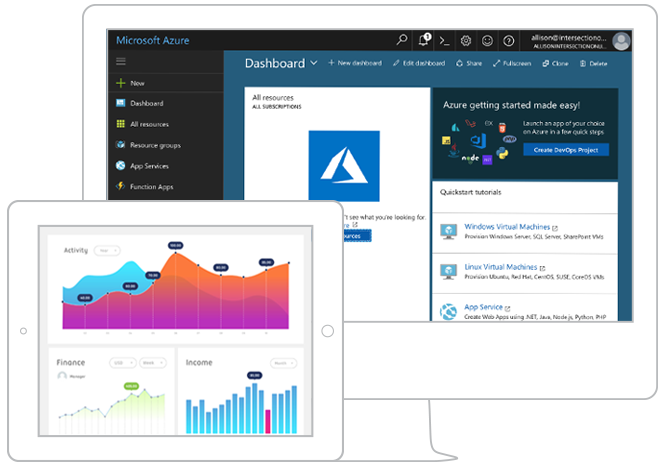 Cloud Solutions For NONPROFITS
HELPING BUSINESSES MAKE THE MOST OF TECHNOLOGY SINCE 1999
Born in the cloud, Applied Innovations has helped businesses succeed in the cloud since our inception in 1999. Today Applied Innovations is one of Microsoft's closest partners and a recognized industry leader in delivering high performance, secure cloud solutions.
Our unique approach of Plan, Design, Implement, Operate and Optimize is a continuous process that starts with learning about your organization, understanding your mission and then what success looks like for your non-profit. Our team then crafts a strategy to leverage technology to help your organization meet those goals. Popular services include Managed Cloud Services, Managed Office365 and Cloud Cost Optimization.
Why Partner with Applied Innovations for Your Nonprofit
We'll take the time to understand what success looks like for your organization and help craft technology solutions that drive that success for you & your donors.
Just because you can do IT, should you? Your organization & donors are probably better served when you're focused on them and not on your servers.
With AWS and Azure, the cloud is evolving rapidly. Our team can help ensure your organization is making the best use of these tools and controlling costs.
By partnering with AppliedI, you'll gain personalized, first name service but still have the scale and innovation of Azure and Amazon AWS at your command.
Global Scale and Innovations, with Personalized Service, Since 1999.
As a non-profit organization, you're focused on making the world a better place and ensuring your resources are best utilized and the last thing you need to be worried about is servers, updates, and security alerts. Let Applied Innovations drive your technology success.
> Optimize Cloud IT spend and Cloud 'rightsizing'.
> Deliver Cloud Applications Secure, Fast and Reliably.
> Maintain Data Compliance and Increase Security.
> Ensure Technology is Optimally Implemented.
> Leverage Our Expertise & Experience As Your Advantage.
It's like hiring a full-service,
highly-skilled IT team for
about the price of a
double-shot latte a day!
Custom Cloud
Server Solutions
Every Deployment Uniquely Optimized
To Your Unique Business Demands.
Every business is unique. While you may use the same tools and have similarities in your industry, your business is unique. The team at Applied Innovations will take time to understand your business, your needs, and goals. Then our team will work with you to help design a Managed Cloud Solution that helps you meet those needs.
EXAMPLE CONFIGURATION
As Low as


$249 95
4 CPU CORES
8 GB of Memory
100GB of SSD Enhanced RAID Storage
Daily Backups with 7 Day Retention
Full ServerConcierge Management
Recent Articles for Nonprofit Cloud IT
In the contemporary digital age, many businesses are ditching onsite data storage for cloud-based storage. They are harnessing numerous benefits from cloud computing ranging from lower costs to accessibility and improved security. In fact, 81% of American businesses use the cloud as a source of competitive advantage. Luckily, the benefits of cloud computing extend far…
Read More

→
Technology has enabled companies in every industry to simply do more with less. That has been great news for businesses everywhere with perhaps one exception, non-profit organizations. What is ironic but hardly funny about that is this, of all the companies and organizations that could most benefit from being able to do more with less,…
Read More

→
If you're involved in running a non-profit in some fashion, you should know that Google Cloud and Google Cloud Platform has some resources that could give you serious aid. Here's an outline of these resources including how they can help, as well as how and why you might want to use them. Google for Nonprofits…
Read More

→