MANAGED
AZURE HOSTING & SUPPORT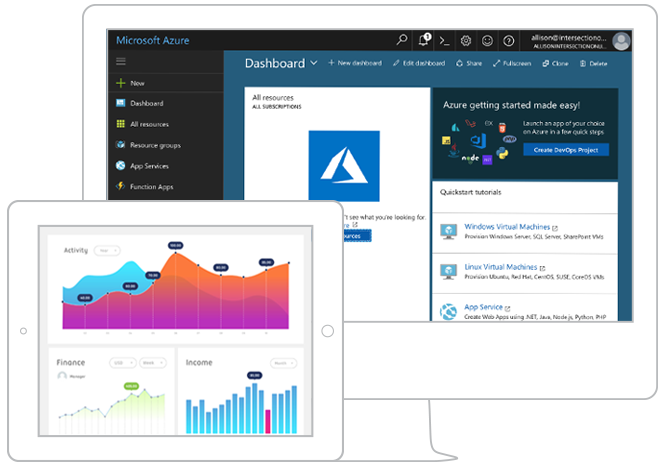 Simplify your life with Managed Azure
HELPING BUSINESSES MAKE THE MOST OF TECHNOLOGY SINCE 1999
Born in the cloud, Applied Innovations has helped businesses succeed in the cloud since our inception in 1999. Today Applied Innovations is one of Microsoft's closest partners and a recognized industry leader in delivering high performance, secure cloud solutions.
Our unique approach of Plan, Design, Implement, Operate and Optimize is a continuous process that starts with learning about your business, your goals and then understanding what success looks like for your business. Our team then crafts a strategy to leverage technology to help your business succeed.
Why Partner with Applied Innovations for Your Azure Needs
We've supported thousands of businesses moving to the cloud like yours since 1999.
Our team of Microsoft Cloud Experts are available 24x7 to assist your company.
Your business is unique and we'll custom tailor the solution to your business.
Global Scale, Local Service
You'll be able to harness all of the power and innovation of Azure with personalized expert service.
Global Scale and Innovation from Microsoft, Personalized Expert Support from Applied Innovations
With managed azure hosting and azure support from Applied Innovations you'll have the freedom to deploy anywhere in the world, scale massively with a single click and still be on a first name basis with folks supporting you.
> Global Scale and Unmatched Rapid Innovation of Azure.
> Personalized, Expert service from Applied Innovations.
> Security, Reliability and Performance Monitoring, 24x7.
> Maintain data compliance and increase security.
> Streamlined administration and support.
It's like hiring a full-service,
highly-skilled IT team for
about the price of a
double-shot latte a day!
Custom Azure
Server Solutions
Every Deployment Uniquely Optimized
To Your Unique Business Demands.
Every business is unique. While you may use the same tools and have similarities in your industry, your business is unique. The team at Applied Innovations will take time to understand your business, your needs, and goals. Then our team will work with you to help design a Managed Azure Hosting Solution that helps you meet those needs.
EXAMPLE CONFIGURATION
As Low as


$249 95
4 CPU CORES
8 GB of Memory
1000GB of SSD Enhanced RAID Storage
Daily Backups with 7 Day Retention
Full ServerConcierge Management
Articles on Azure Services from Our Blog
Today we are in the age of the mobile workforce. From salaried experts to freelance contractors, it is now possible for almost any kind of employee to work remotely. And if your business is configured correctly, you can offer remote work and telecommute days as a very tempting employment opportunity. Working remotely can mean not…
Read More

→
Business networks are very complex, and so is security management on them. The number of devices is huge, even in businesses of moderate size. Each one is a potential target. The number of threats on the Internet seems overwhelming, and new ones keep appearing. Security administrators face a huge burden. Protective software is available, from…
Read More

→
Microsoft Azure is a cloud service platform that covers all aspects of the environment. Some of the features it offers are: Virtual machines Web application support Cloud services Data and storage management File services Virtual networks Traffic management Developer services These components all work with one another, but you only use the ones you need. This…
Read More

→