10 Lessons I learned at the Masters
Last month I was fortunate to be invited to attend two days of the Masters Tournament practice rounds in Augusta, Ga as part of Intel's Executive Networking Series. While there I took advantage of the opportunity to network with executives from companies such as Intel, IBM and HP but I'm also a creature of observation and have a thirst for learning and improving.  I was really surprised about some of the observations I made and thought I'd share those.
1.  Life's A Game, So Have Fun
Even though winning the Green Jacket at the Masters is serious business for professional and amateur tournament golfer's alike, they still manage to have fun:
2. Celebrate the Victories, no matter how big (or small) they are.
I was fortunate to catch up with Phil Mickelson on the 8th hole and his shot landed just 10 feet from where we were standing.  He chipped the ball up onto the green and right into the cup.  Even though this was still just a practice round he still celebrated with the other golfers.
3. Co-opetition, it makes everyone better.
In cloud hosting, you'll find competitors frequently helping each other out.  Last week, I was in Washington DC for Microsoft Lync training and we were all sharing tips and tricks and helping each other out.  At the end of the day, you'll learn something and get better. I know what you're thinking "But Jess your competitors also get better!" but that only drives you to be even that much more better and this is co-opetition.  In golf, the players have the same philosophy and were helping each other during the practice rounds. The camaraderie between competitors/champions was great to see..
4. Take time to smell the flowers
Yeah, I know it's corny but I firmly believe it's one of the small rewards of hard work and helps to not only keep you balanced and grounded but when you're stuck on that tricky problem, a walk in the woods might just clear your mind and make the solution that much more obvious.
5. Never stop improving
So here we are, at the Masters with some of the greatest golfers of all time with one thing on their mind, winning the superbowl of golf. Ernie Els, is definitely in the elite club of golfers having won multiple championships.  Yet, here's Ernie on the practice range working on his basics to improve his game just like you'd find any of us or the thousands of other golfers on a saturday at the practice range.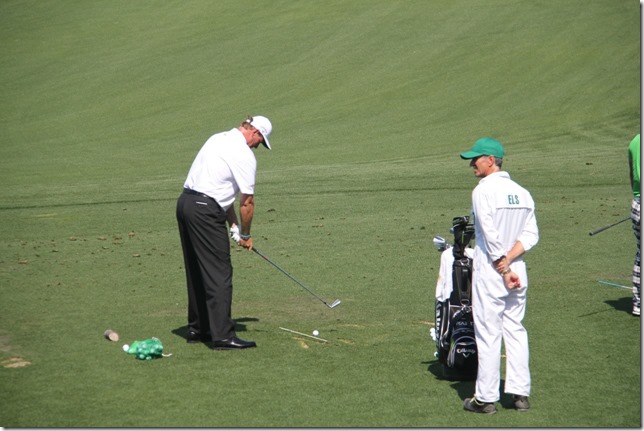 BTW, Ernie wasn't alone.  They were all polishing their game..
6. Remain humble and take time to inspire greatness in others
Here's Tom Watson, without question one of the all time greats of golf humbly acknowledging a standing ovation from the crowd watching the practice rounds. Where's he headed?
Over to 13 year old golfing phenom Tianlang Guan to greet him and no doubt congratulate and inspire him. In fact, I watched great golfer after great golfer take a moment to help inspire this amazing young man.
8. Doesn't matter who you are..
When you walk out of the house, ask your wife "Honey do I look like I belong in a pack of skittles?" and if you do, it'll only look stylish on the golf course…
9. Fellow Bubbas of the world rejoice! We have a champion!
10. No matter how happy you are..
There's some guy (or in this case two guys) even happier than you! This holds in competition, business and everything else. Remember, there's always someone looking to be better than you (or in this case happier!)
(I have no idea who those two guys are but they were definitely happier than I was to be at the Masters!)
I learned a lot at the Masters and obviously had a little fun while I was there.  I believe in life it's up to each of us to remain inspired, continue to improve and beyond anything else remember to take a little time out to have fun because life's a short game and it's over before you know it.