AppliedI customers get 10% off at Revolver Commerce
Applied Innovations is always trying to bring more value to our e-commerce web hosting customers. We often will find a popular product that our customers find useful, and we will see if we can get our customers a discount. Revolver Commerce makes many useful add-ons to the ASPDotNetStorefront e-commerce app, and they also provide design and development services.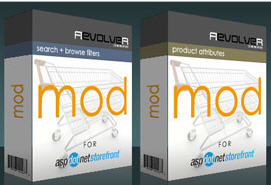 Revolver Commerce brings some much needed add-on applications to the already wonderful ASPDNSF product. These apps can save you a lot of time, and potentially increase sales. I was able to ask Chris McKellar, one of the lead developers at Revolver Commerce about their products. Here's a couple of the questions I asked:
From customer feedback you've received, what might be the most important add-on if someone had to choose just one?
"Product Attributes. Search is a great add-on, but there are a couple others out there as well. Attributes is something that was desperately needed in the ASPDNSF community and we're thrilled to have had the opportunity to be able to provide a solution there."
I see that my purchase of an add-on includes a year of upgrades. Can you tell me about how often they are updated? For example, if ASPDNSF releases a new version, if there's any compatibility issues, will there be an update to the add-on?
"Add-ons will be updated shortly after ASPDNSF releases new versions. As we add features to the add-ons, we'll also update our clients with those features. We have no specific roadmap for feature development since it's highly demand driven from our client base."
AppliedI customers can log into the control panel  and check out the market place to redeem a 10% off coupon from Revolver Commerce for add-ons to your ASPdotnetstorefront website.
[optin-monster-shortcode id="hmlqlsmuuf1mxurrcukj"]