Comodo will be updating the SSL "Trust Logo" that you've become familiar with
A great deal of our e-commerce web hosting customers choose to order Instant SSL certificates from Applied Innovations. For the $99 price tag we install the highly secure 256-bit encryption SSL certificate for you, you get $100,000 warranty from Comodo, and you also get the Trust Logo free. 
Today, Applied Innovations has been informed before the official news release, that Comodo will be updating their Trust Logo. The Trust logo is getting a much needed aesthetic facelift, and becoming more useful by allowing a customer to hover their mouse over the graphic to activate a Java Script that tells them more about who you are. This equals more trust, which potentially equals more sales. You can see the demo of the new graphic here. 
Here's the Old Trust Logo:
Here's the New Trust Logo (To see how the Javascript works, please click the above link to the demo):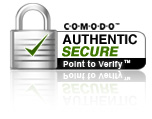 Comodo has also had the scrolling "CornerTrust" logo for a while now that essentially has the same Javascript mouse-over feature as the new logo, but the CornerTrust required a graphic to hover on the corner of the customers browser. This new logo is a stationary option.
For instructions on how to install the new logo, please see this Support page.