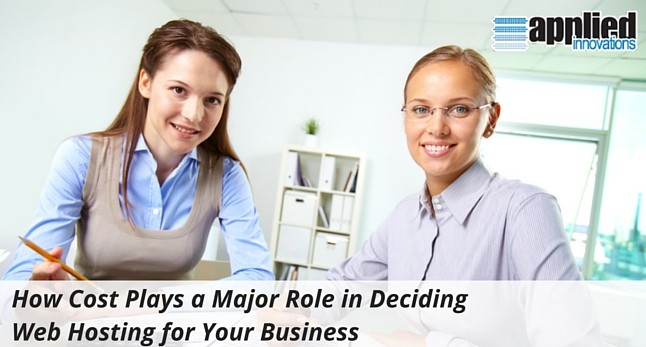 How Cost Plays a Major Role in Web Hosting for Your Business
If you run a small business, one thing that you have to pay attention to is your expenses. It is far too easy for these costs to get in the way of success, growth, and profit, so it is worthwhile to deeply analyze this part of your business. Whether you have a brick-and-mortar business or not, you should have a website as it provides so many opportunities for attracting new and existing customers. Web hosting is one of the expenses that you will have to pay while operating and maintaining a website, so you should understand how the amount that you pay can play a substantial role in the service that you receive.
Expensive Is a Concern
Although you might think that expensive web hosting providers are the best ones, you cannot rely on this single piece of information to determine the quality of any business. Expensive plans are a concern because they can make it difficult for you to actually profit from having a website, especially if you have a plan other than shared hosting as the costs make a huge jump once you get into dedicated servers. Ideally, you should watch out for expensive plans because of how much it can impact your business cost-wise.
Cheap Is a Red Flag
When looking for a way to host your website, you may find a few cheap options and think they are automatic winners. However, these cheap web hosting providers do not always provide the greatest value, and you have to be careful with the terms and conditions to avoid unfavorable situations. These businesses occasionally put unfair limitations on their customers, which allow them to provide such cheap hosting. It is important to exercise caution when looking through extremely low-cost plans.
Part of the Budget
Web hosting is definitely an expense that you will want to add to your total budget. If you are already at the top of your budget and would go over by getting a web hosting plan, you should adjust your budget or find a way to save money elsewhere to allow yourself to get high-quality hosting. It is not worthwhile to sacrifice hosting quality to save a few dollars and stay below your monthly budget.
Analyzing Plans
If you want to get a web hosting plan that provides you with everything you need, you have to analyze every hosting plan that you come across. While it will be a time-consuming process, you do not want to end up with a hosting provider that has downtime on a consistent basis as this leads to lost business.
Making Comparisons
Running a small business means you will not have to worry about reaching the reasonable limits of small web hosting plans. As a result, you can start with a low-cost plan and upgrade to a different plan in the future, if you happen to reach any of the limitations, such as bandwidth. It is an ideal way to minimize your overall spending, and having to upgrade is not such a bad thing either. It simply means that your business is receiving a large number of visitors, and visitors often translate into customers.
Costs Are Tax-Deductible
When you start paying for web hosting, whether you pay it once a year or on a monthly basis, you should know that it is all tax-deductible. Although the amount might not be much, every expense is worth keeping track of as it will help you minimize how much you pay on taxes at the end of the year.
Web hosting is a necessity for any business that wants to own and run their own website. If you have any questions about our plans, do not hesitate to contact us at any time.