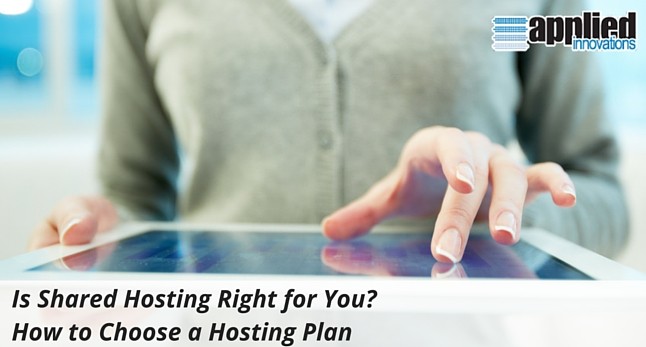 Is Shared Hosting Right for You? How to Choose a Hosting Plan
Of the different hosting options available, shared hosting is the most popular. The reason is that it's affordable and it gets the job done for most individuals and businesses with moderate levels of traffic. Shared hosting also allows you to inexpensively test a hosting provider. This is important because there's only so much you can learn from research. If you believe your website will experience significant growth in size and traffic levels in the future, be sure to choose a provider with hosting upgrades that allow for this.
Shared Hosting Explained
Shared hosting means that multiple websites belonging to different paying customers all share the same server and its allocated resources. This is analogous to people living within an apartment building where all share the same physical building and some of its utilities. This sharing is the reason why shared hosting is so economical because the costs of running and maintaining the server are spread out among its many users. Because the hosting provider does all the server upkeep and maintenance, you can focus exclusively on your website.
Choosing the Right Shared Hosting for Your Website
If you are new to building websites, using shared hosting is a sensible start if you don't have ambitious marketing plans for bringing in heavy web traffic. This is often the case for most new websites. If your website and traffic levels do exceed the allocated resources of your shared hosting plan, then you can simply upgrade to a plan that accommodates your resource usage.
Look for these features when evaluating shared hosting plans:
24/7/365 Customer support – Websites are machines on two levels. They are software machines built up from code that experience occasional problems and glitches. Websites reside on servers which are physical machines that aren't immune to problems either. When problems occur that you can't resolve, you will need a capable and responsive customer support that is reachable at any time. It's not a question of if a problem occurs, it's a question of when. If a web hosting company has an overwhelming reputation for poor customer service, there is nothing they can offer that will ever make up for this serious deficit.
High reliability – A website that experiences significant downtime is unacceptable. What constitutes an acceptable downtime depends on how you use your website. However, an uptime of at least 99.5% is the general rule of thumb. If your business is highly dependent on holiday traffic where the bulk of your profits come from a few weeks or even days of the year, then 99.5% isn't high enough because you don't want that 0.5 % downtime to happen during your critical selling times.
Hosting upgrade options – Although we've mentioned this previously, it's important to allow room for your website to grow by making sure that you aren't limited to shared hosting only. Higher resource server upgrades must be available.
Web-based control panel – A control panel that allows a non-technical person to manage her account is for the most part, a standard feature. Never assume this however, because not having one means complete reliance on the hosting provider's technical staff for the smallest of account management tasks. Windows shared hosting features a highly intuitive control panel.
One-click installations of the popular open-source CMS – If you've never heard of open source content management systems (CMS) such as WordPress, the things made possible by them will amaze you. You will also find their price amazing: they are free of charge. Many hosting providers include one-click installs of free e-commerce applications as well.
If shared hosting is right for you, Applied Innovations has very affordable windows shared hosting packages and provide a 100% uptime guarantee for your website. Contact us today to learn more.